Wedding Stationery That Tells A Story
Beautifully elegant for mindful, artistic and romantic souls
Your wedding stationery is so much more than words on paper or card. Every last detail gives you the chance to make an impression.
From the feeling of unwrapping it like a precious gift, to the weight of the card in your hands, the colours, the finishes, the ribbons, wax seals, hand-illustrated elements and hidden pops of colour in envelope linings. All of these allow you to send a message to your loved ones, just as much as the words you choose to write.
Endlessly inspired by the natural world, and passionate about protecting it
I specialise in designing and creating elegant wedding invitations and stationery that's meaningful as well as beautiful. I source and use sustainable, recyclable materials of exquisite quality, and keep my processes as kind to the environment as I possibly can. Creating stationery your guests will love, and made with a planet-kind heart.
As you travel through your stationery journey we will have a private consultation where we can discuss all the things you love and your wedding vision. Creating unique personalised artwork for your wedding day with floral illustrations that are hand-drawn or painted in my Nottinghamshire studio.
Let me show you how you can have both mindful and beautiful wedding stationery
Bringing joy and calm to your wedding stationery planning
The wonderful thing about wedding stationery is that it allows your loved ones that first beautiful glimpse into your wedding day.
Ellie and Liv is not a faceless business. Getting to know the two of you, hearing your excitement, and learning about your family and friends is hugely important to me. So that you can feel a personal connection to every element of your wedding stationery.
I'll work with you to build layers of detail into the design of your invitations, and save the dates and on-the-day stationery. So that your finished wedding invitations and stationery are gorgeously tactile and full of your stories.
Choose your invitation style
Bespoke Design
Where every detail is unique to you
Choosing bespoke wedding invitations and stationery means you'll feel your personalities in every piece of your paper goods. I'll take the information you give me about your wedding celebration and turn it into a beautiful, intentional design that looks and feels just right.
House Collection
Semi-customisable stationery
These select suites of stationery (available as save-the-dates, invitations, information cards and RSVP cards) have been designed with a full heart and an enduring love of the natural world. Taking inspiration from the changing seasons and their flora and fauna, you'll find beautiful details on each one.
Hi, lovely to meet you
I'm Simone. Stationer, illustrator and designer. Based in the Nottinghamshire countryside, I'm a lover of slow living, a devotee of the great outdoors, and a champion of the cosy.
Traditionally trained in art and graphic design. I have been a lover of drawing, typography, stationery and design from a young age.
You will always find me buried under a pile of wildflower books, pen in hand, sketchbook open. With a peppermint tea and a square of dark chocolate. Embracing switching offline and reigniting the love of handcrafted personalised post.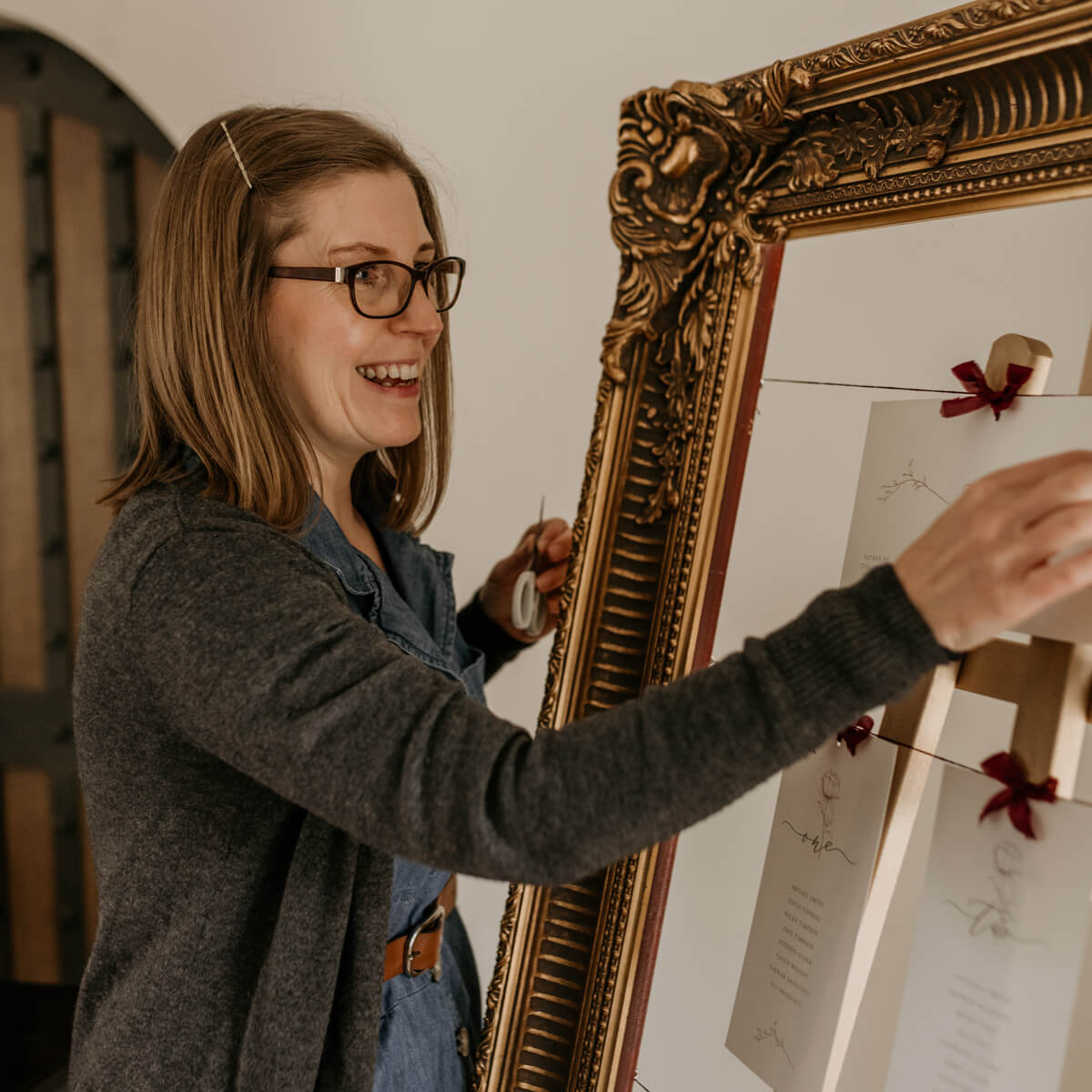 "Simone was absolutely amazing from my initial enquiry, all the way to designing and delivering the end product. They were beautifully designed, and assembled with the utmost care before being sent out to me."
Subscribe to receive your FREE stationery planner
Download "Your Simple Guide To Planning Your Wedding Stationery" to discover your perfect colour palette. Connect with what personalised elements to share with your guests. Get clarity in what items you really need. Collate together all your important details in one place and reveal the secret behind the ideal time to order and post out your invitations.
By following this guide you will be left feeling confident, calm and ready to start your wedding stationery journey.