Elegant Bespoke Wedding Stationery
From the moment you said yes, you knew you wanted something different
Elegant bespoke wedding stationery is the perfect way to capture your own style and personality. Create a lasting memory as you invite your loved ones to your wedding day.
My bespoke service ensures every piece of your stationery is tailored to you and your day. I understand that all the small detail are important to you. During your free consultation, I will take the time to listen to your ideas and discover your vision. Using your story as inspiration to design elegant wedding stationery that will fill you and your guests with joy.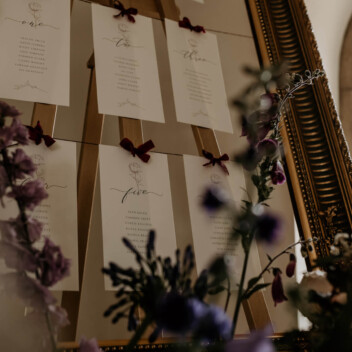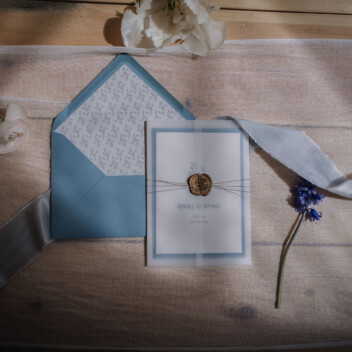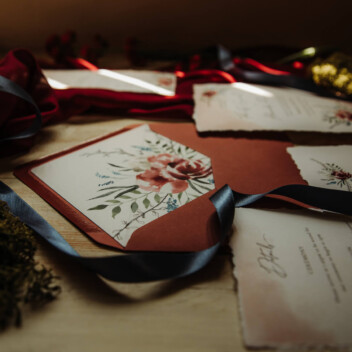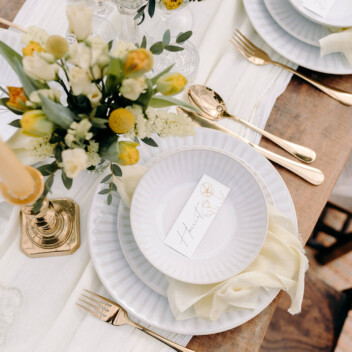 Are you ready to start your bespoke wedding stationery journey?
Bespoke wedding Gallery
Please take a moment to have a look at some of my favourite bespoke wedding stationery designs. These have all been created for bespoke occasions. If you spot something you love please mentions the design on your enquiry form and we can discuss your stationery options in more detail.
Opulent Vintage Glamour At Newstead Abbey
Rich bejewelled tones set off the scene for this styled shoot at the historic Newstead Abbey.
Inspired by the setting I designed mini personalised menu's in opulent plums finished with hand-torn edges and handmade cotton tassels. All printed on soft part recycled cotton paper.
The table plan hung in a vintage gold frame to match the historic paintings of Newstead Abbey. Each card hung with plum hand-dyed silk ribbons and the frame was adorned with florals to match the flowers on the table. A hand-drawn botanical illustration of a single peony is used on both the menus and the table plan.
If you love this design or would like something similar to this style let's chat more. The frame is also available to hire with a table plan for local Nottinghamshire weddings.
Boho English Barn Wedding
This dream mood board was perfect for The Hall Barns at Prestwold, Leicestershire.
Inspired by the beautiful embroidered wedding dress from Willowby I knew I wanted to reflect the detailing from this dress in the invitation and stationery designs. Looking at natural English gardens and woodland for inspiration I used watercolour floral and leaf illustrations mixed with lighter pencil sketches all layered with a subtle swoosh of watercolour to create a magical, rich feel to this collection.
Printed on soft part recycled cotton paper and hand-torn to give an extra feel of magic. Bound together with a hand-dyed silk ribbon and contained in a rich plum envelope.
If you love this design or would like something similar to this style let's chat more.
Sustainable Outdoor Wedding
Imagine festival vibes that showcase how beautiful and unique an outdoor eco-friendly wedding can be. This Spring styled shoot had a crisp colour palette of yellows, greens and pale greys with an abundance of florals and stunning backdrop Measham House Farm, Derbyshire.
Inspired by fresh Spring blooms, I created a simple loose line drawing and used a rich ochre colour that popped against the part recycled cream cotton paper. The invitations were bound by a fine golden cotton thread and sealed with an antique gold wax seal. One of my favourite parts of the design was having the ochre bloom appearing from the pale grey envelope on the envelope liner. I surprising twist for your guests.
If you love this design it can be created as part of my House Collection and colour coordinated to your day. Let's chat more.
Sustainable Yurt Wedding
What is more magical than a venue that can come to you and your favourite location. This bespoke wedding stationery was designed for a collaboration with a like-minded team of sustainable and eco-friendly wedding suppliers.
English florals meet relaxed festival spring vibes inspired this design. Vintage Chinese patterned tableware and flowers were the main focus of the mood board. The stationery was kept simple so the design would not fight with the glorious array of florals. An elegant font with a dash of luxurious flourishes was used alongside a simple line drawn motif of a spring bouquet. Using a light blush of pale blue to accent the flowers and tableware.
Keeping with the sustainable theme all the stationery was printed on luxurious textured 100% recycled fine flecked papers, wrapped in eco-friendly vellum, bound with the finest paper twine and sealed with a wax seal.
If you love this design it can be created as part of my House Collection and colour coordinated to your day. Let's chat more.
Vintage Flamingo Wedding
With a love for flamingos and a passion for travel, Amy and Simon knew they wanted to include these personal details in their bespoke wedding stationery. As collectors of vintage items that have a modern twist, I used botanical style illustrations to capture the style of their wedding. A subtle quirky feature was added with a top hat and a large flower on the heads of the flamingos to capture the couples fun personalities.
To bring the vintage feel alive the bespoke stationery was printed on recycled kraft card, set off with pink envelopes and natural twines that ran throughout their wedding decor.
It was such a pleasure to work with Amy and Simon from their save the date cards, to invitations, on the day table plan and signage through to their thank you cards.
"She really listened to our ideas and transformed them into exactly what we wanted with ease." Amy and Simon
Ready to chat?
When we chat in person I can talk you through your designs and discuss all the finishings and papers that can be selected personally for your design.
We can talk virtually or over the phone. If you are local to me in Nottinghamshire we can even meet in person over a lovely cuppa and a slice of cake. There is nothing is more exciting than hearing your love story. So if you are bursting with ideas and want to have a chat, please drop me a message.
I can't wait to hear what you have in mind!