Do you need a Save the Date?
10th January 2021
Congratulations you've got engaged!
It's so exciting when you first start planning your wedding, a whirlwind of sharing your happy news and selecting all your favourite things. You've conquered Pinterest, selected your favourite venue and maybe even sampled some cake! Now your date is set and you want to make sure all your loved ones are ready to celebrate with you. So do you need to have a Save the Date card or not?
So what is a 'Save the Date' and do we even need one?
You've no doubt already told your nearest and dearest when your wedding day is, but it's still lovely for them to see your special Save the Date envelope drop on their doormat.
A Save the Date is in essence, a pre-invitation notification. An exciting way to give your guests a head's up on your forthcoming wedding. It's ideal if you're having a destination wedding, your date is in the peak of Summer, on a bank holiday or you are making the most of your celebrations and having a 3 day weekend of fun. Then a Save the Date will give your guests plenty of time to plan and make any arrangements for travel or accommodation.
If your Wedding is none of the above that doesn't mean you can't enjoy sending them out. They are still a great way to involve your guests in your celebration.
If you only have a short time frame until your wedding then I would advise sending your wedding invitations earlier instead. I myself fell in this bracket, we got engaged in April and were married by the end of November the same year, and no I wasn't pregnant. I once said to my then-boyfriend in passing "Oh I could arrange a wedding in 6 months" and he decided to hold me to it!
When do we send our Save The Date?
The general rule of thumb is approximately six to eight months before your wedding day. If you are having a destination wedding or one that may require your guests to make more extensive arrangements I would advise allowing a few more months notice.
Who Should I Send Them Too?
Your Save the Date cards should only be sent to those you plan to invite to your wedding. So it's a good idea to write a careful list of the guests you definitely want to be there on the day. Once you've popped them in the mail, there is no getting them back. If you aren't sure about Fred from accounting, perhaps hold off on his until you send out your invitations at a later date! You may have already told your closest family and bridal party but it is still nice to send to key wedding guests one as a keepsake.
Can't we just send an email?
Of course you can, this is a great eco-friendly option which I'm always a supporter of. With everything currently happening this is also an easy option to edit and resend if you do have to change your wedding date. Any of my in house Save the Dates can be adapted into a digital option if that is the way you would like to go.
If I had to choose between digital and a physical Save the Date I would personally always choose the latter. I am a little biased though due to my obsession with beautiful papers! The beauty of sending a physical Save the Date is your guests will pin it on their fridge, pop it in their diary and generally treasure it more. With a digital Save the Date you may run the risk of it not being received by your guests. Emails often get lost in peoples junk mail, a guest may have changed their email address/phone number or they simply get missed between all the other emails people receive.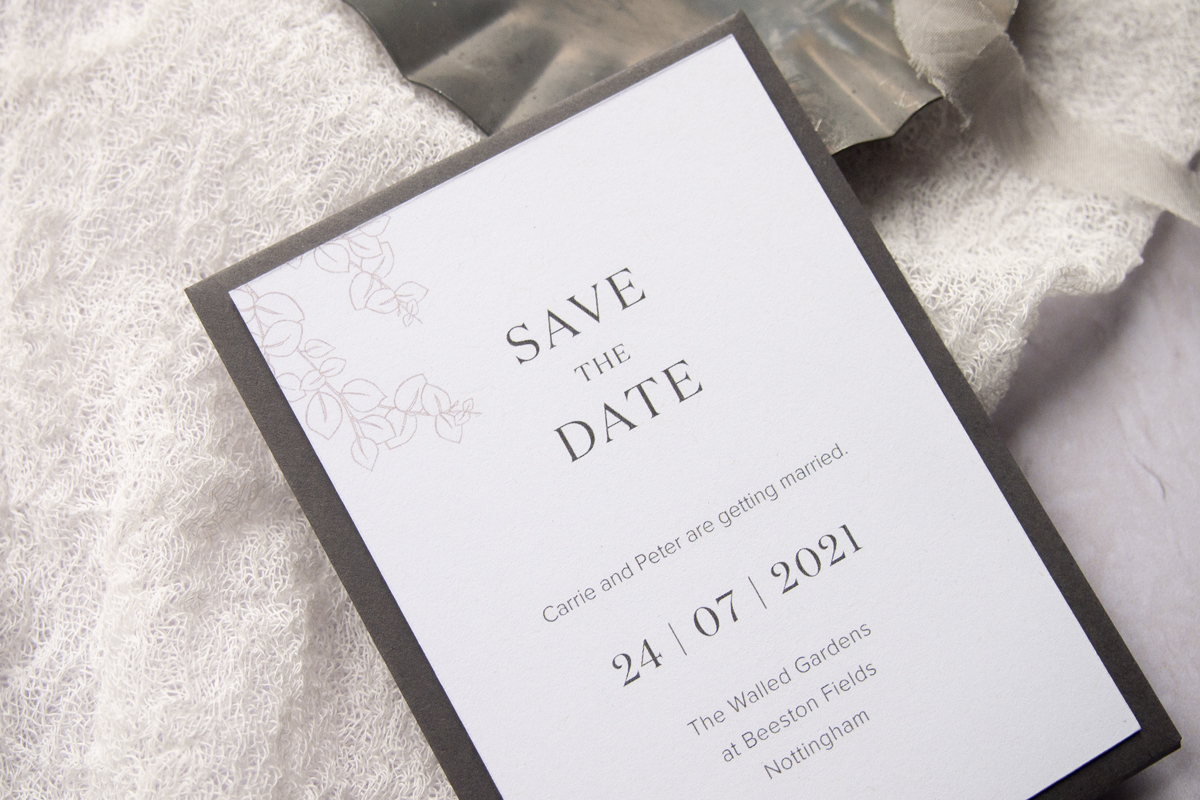 What information should we include?
The key information to include is your names, date and location. If it's a destination wedding you may want to include more information or a link to a wedding website where more details can be found. If you prefer to reveal your wedding venue on just your invitations that is fine, a simple town or city will be enough for an early announcement.
Do they need to match our wedding invitation?
I do design matching Save the Date cards and Invitations for my in-house collections, but this is not a rule. You could just keep things simple or have more fun, show your personality. It's your wedding and you make the rules when it comes to this.
Why not use some alternative wording like "We're Getting Married", "Save Our Date", "It's a Date" "Are you In?"
Your Save the date doesn't even have to be a traditional card, maybe a photo, bookmark, chocolate? Include a favourite quote, a recipe or poem, the world is your oyster.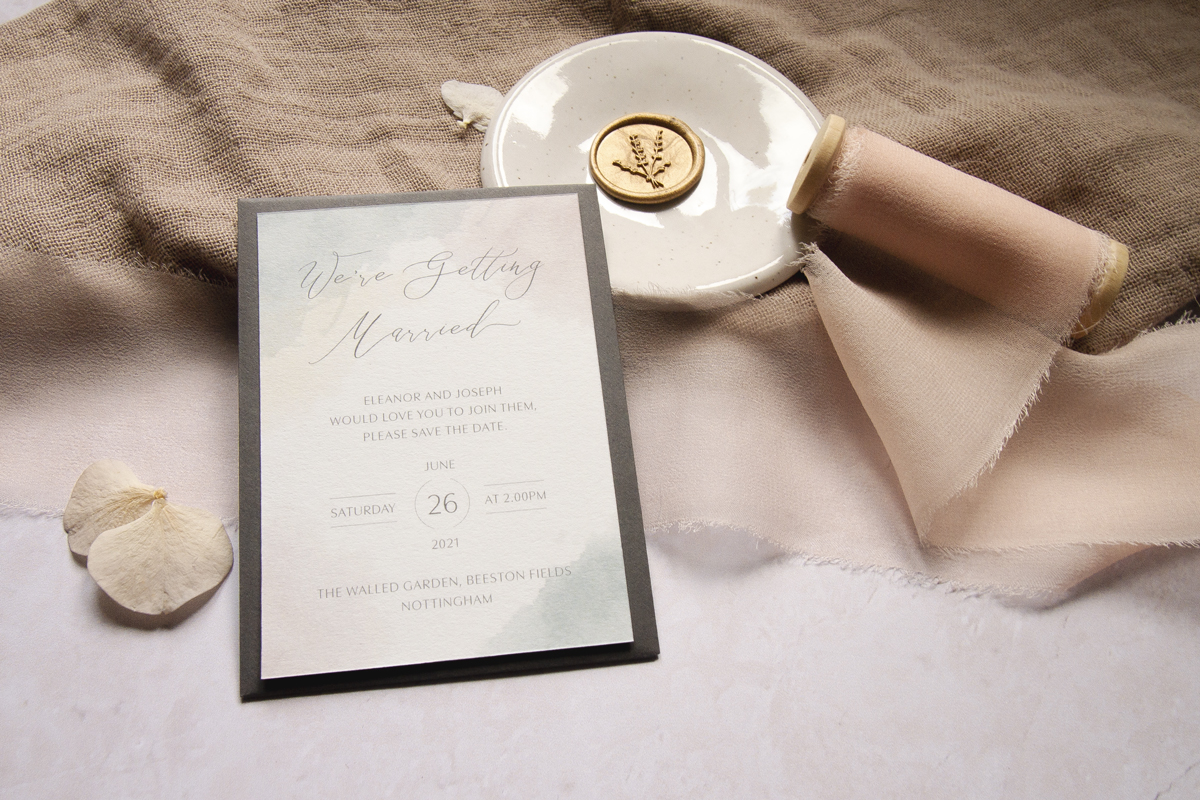 How can we make our Save The Date more sustainable?
There are many beautiful recycled or part recycled papers that you can use, or even a seeded paper if you would like your guest to plant your Save the Date once they have finished with it. A little gift from you to them that will remind them of your wedding day. I specialise in papers that are all FSC certified, 100% recyclable or reusable, producing as little waste as possible, making sure we're being extra kind to our planet.
What if my date changes?
Just over a year ago this rarely ever happened. In fact, over the last 7 years, I've only known it happen once, but as we all know sadly this has become a reality. If this does happen please do not panic. There are many ways I can help you out. You can simply send out a new "Our Date Has Changed" card or I offer a FREE digital revised card to all my existing booked couples. If your new wedding date is not far away we can send out your actual invitations earlier telling a guest that your date has changed. For peace of mind, I can even add a small note onto your Save the Date mentioning that your date may have to alter.
If you are worried about this happening, I am here for you and we can talk through any of your concerns.
I hope this has helped you with any questions you may have had?
The main thing is to have fun when you announce your wedding day. This is some serious happy post that your guests will love to receive and cherish.