How To Find Your Ideal Stationery Designer
26th March 2021
Your ideal stationery designer will make your wedding stationery journey a joy and ensure all the communications with your guest goes smoothly.
They will guide you through the design process, your timeline and budget, avoiding any paper related disasters along the way. If you start your wedding stationery with Save the Dates you may be working with your stationer for nearly 18 months! So it's important you find the right one for you.
Communication
Like anything you need to find a stationery designer you are comfortable working with, a person you feel you can speak to if you have any concerns. Equally, your stationer should be interested in asking you questions too. A good stationer will want to know your likes and dislikes, be interested in your all-important Pinterest board, where you are getting married and what style of wedding you desire.
I like to get to know all my couples by having a chat via zoom or phone to get a real feel for your wedding and you as a couple. By chatting about your day I will be able to see what stationery will work best for you.
Knowledge?
A good designer chooses their paper and print carefully. Like a chef knows their ingredients, a designer knows their paper and printing techniques.
One of my main focuses is to create sustainable stationery, so I have sourced the finest recycled or FSC certified papers from equally sustainable suppliers. I know what types of paper will suit which style of stationery best. Creating designs that get the most out of your paper, reducing waste and costs.
If you ask me about a technique that I am unsure about I will research and contact my specialist supply partners before giving you advice. I'm always open to new ideas and love to hear yours, so if you fancy something a little different, don't be afraid to ask. I can offer many specialist finishings including letterpress, seed papers and sustainable foils.
The same goes when choosing the elements you require for your wedding. I believe a guide to what you need, is just that. A guide, not a tick list. Your ideal stationery designer should discuss with you the size of your wedding, your budget and location, designing stationery that will work for you. If you are planning an intimate wedding a large table plan wouldn't work for you and be a waste. Something much more creative and personal to you could be used instead.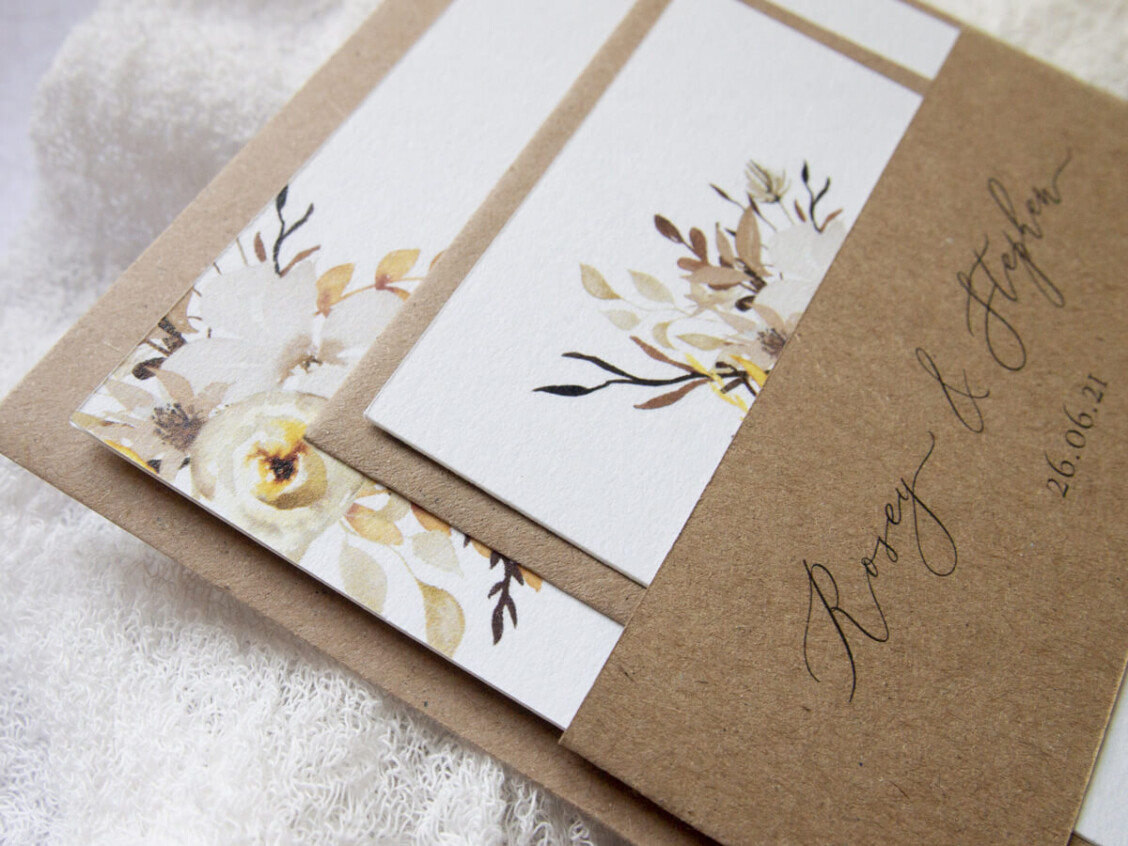 Design Style
If you love minimal clothing you wouldn't shop at a boutique that specialised in bright, bold prints. The same applies to your stationery design, you should research the styles of your designer before selecting the one for you.
As a designer with 20 years of experience (gosh I feel old), I have worked with many styles of design in the past and I can be quite flexible. But my personal style favours simple, clean lines and typography mixed with botanicals and a dash of watercolour or block colour. For finishings, I love nothing more than a hand-dyed ribbon. If glitter is your vibe then I'm probably not your girl.
Every designer has their style as you have yours, it's worth the extra research to get it right. After all, this is your special day so you want to love every part of it.
Budget
When it comes to your stationery on average a couple will spend 3% of their wedding budget on their wedding stationery. This can be anything between £500 to £1500+. Cost can very much vary on design time, quantity, paper, finishings and items you choose.
Your designer will be able to guide you through the items you desire and advise you on what fits within your budget.
When I design sustainability is at the very heart of your wedding stationery and I use a lot of specialist ec0-conscious materials, that have been produced in a way that is kinder to our environment. It is factors like these and printing techniques that can raise costs.
Design time is one of the largest factors when it comes to your stationery design. If you have chosen to have bespoke wedding stationery you are effectively commissioning an original piece of design, that will take more studio hours for consultations and artwork to be produced.
Stress-Free
Your stationery journey should be a smooth one. From the information your stationery designer asks for to the timing every element takes, they should guide you through every step.
Once you have booked in with me and we've had your consultation to discuss your design and budget I will send all my couples a simple questionnaire. Asking for all the important details of your wedding, making sure nothing is missed. If I think something isn't right I will discuss it with you straight away.
Equally, If you are not 100% happy with something communication is key, contact me and let me know your concerns as soon as possible. I promise I don't bite. I'm here to help and I really want this process to be a joy. Until you give me your final written approval nothing will go to print.
Get Booked In
You've done your research and found your ideal stationery designer you wish to book, now is the time to contact them and get your date booked in. Wedding suppliers can get booked up fast, especially in peak wedding seasons.
To control my workflow and to ensure I give all my couples a high level of service I only book a limited amount of weddings each month. It's true what they say, we really do have a happy dance every time we book at a wedding.
If you would like me to design your wedding stationery.
Get in touch to reserve your date in my diary.