Eco-friendly Wedding Invites – Recycled Paper
18th May 2022
MORE AND MORE WEDDING COUPLES NOW CONSIDER ECO-FRIENDLY WEDDING CHOICES AS THEY PLAN THEIR SPECIAL DAY.
WEDDING INVITES AND STATIONERY IS ONE PLACE YOU CAN EASILY INCREASE SUSTAINABILITY WITHOUT COMPROMISING ON STYLE.
Gone are the days of recycled paper being that nasty thin grey stuff schools or doctors use. We will also leave those piles of brown kraft paper wrapped in meters of cheap lace ribbon in the past too. Recycled papers will not look homespun or like a DIY project made on the kitchen table.
Recycled paper today is nothing but luxurious. They are tactile, they are clever and most importantly they are down-right amazingly beautiful.
Eco-friendly Recycled paper – the geeky bit
By swapping to recycled paper, energy consumption can be reduced by approximately 31%*, and a tonne of recycled paper can use 35,000* fewer litres of water, compared to virgin fibre paper. Of course, each type of recycled paper will be slightly different, but this does give a guide to its environmental credentials.
Paper is one of the most recycled products in the world. It is a great example of a circular economy model. Use – Recycle – Reuse.
As interesting as these facts are, I know what you are really interested in. "Does it look elegant and feel beautiful?", "How can I use recycled paper for my wedding invitations?" and " Can I have eco-friendly wedding invites?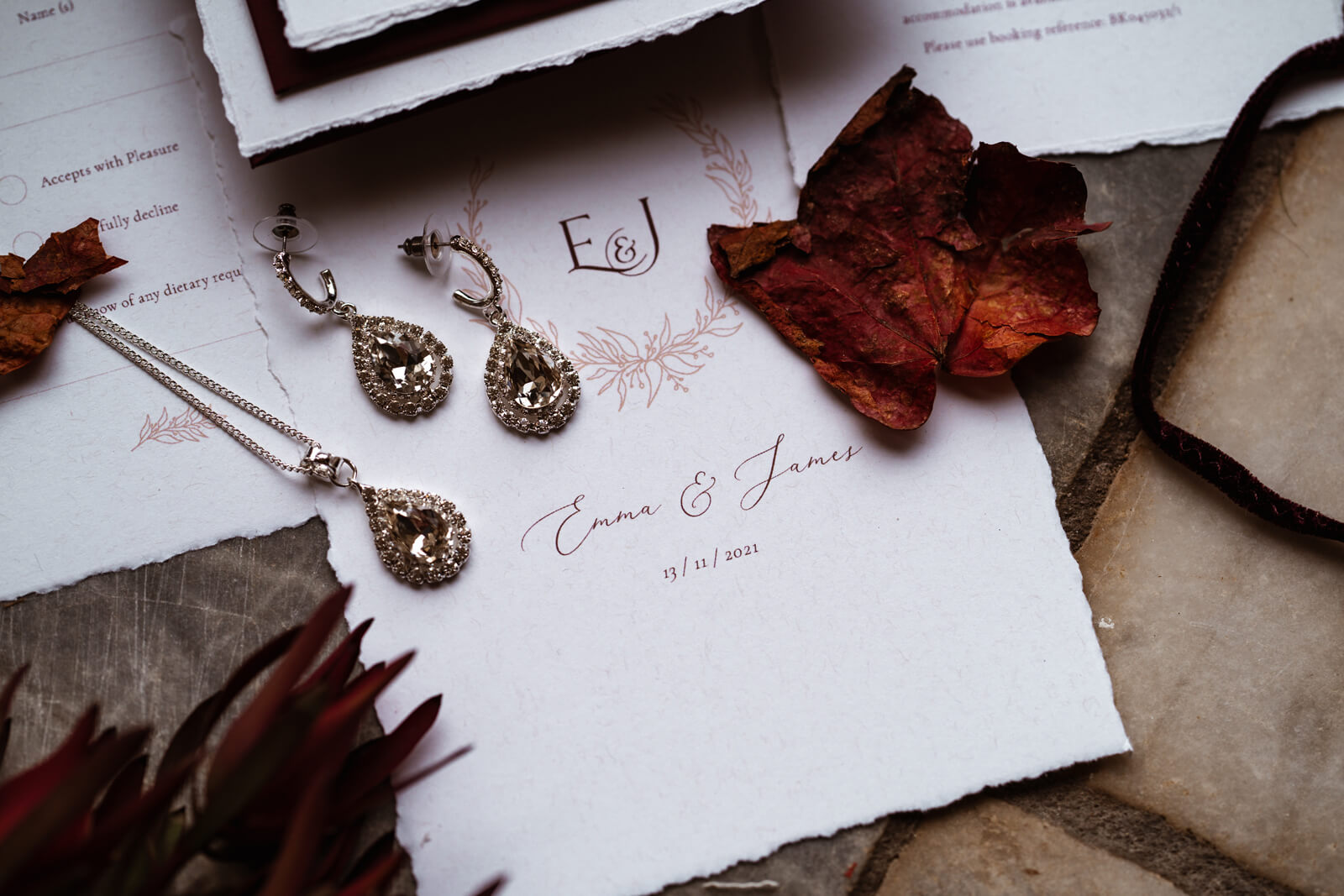 Eco-friendly wedding invites that tell a story
Recycled papers have textures and colours you just can't find on standard papers. Each sheet is a piece of art. With subtle natural flecks, each one has individual patterns. Meaning not one of your invitations will be alike. Now that is truly bespoke stationery and not every couple can say that.
Recycled papers can also tell a story, after all, they have lived a life before. They are as unique as you.
If you are a foodie, I have papers that are made from the by-products of fruit, nuts and vegetables. The kiwi paper is the most stunning shade of green, with a subtle texture. There are plenty more to choose from with cherry, corn, almond and olive just to name a few. This paper is a really popular choice for couples, especially those having a vegan wedding.
If you love clothes, how about cotton or cotton mixed paper? These are soft and pillowy, perfect for hand-torn edging or letterpress treatments. Ideal for fine art heirloom or elegant watercolour styles of wedding invites.
Do you love books or reading? Then there are so many stunning recycled papers out there for you. With natural tones to bright colour pops. A flecked detail can add something extra to a modern minimal design or a soft smooth white can be just as divine when showing off watercolour flourishes.
Is recycled paper best for my wedding?
Every wedding is unique, just like you. So when it comes to bespoke wedding stationery, the paper is matched to the style of your wedding. Illustrations such as watercolour, look beautiful on a cotton mix, a smooth white or corn-based paper. A minimal typographic or botanical line drawing can look stunning on a stronger flecked or coloured card.
I will never bore you with an hour of "paper" show and tell. Or lecture you on how recycled paper works. Your consultation is all about you and your needs.
The eco-friendly papers have been carefully selected for semi-custom house collections to work with those designs. This does not mean if you fell in love with the food paper we could not upgrade your design with an alternative paper.
I understand selecting materials for your stationery can be overwhelming and confusing. As a self-certified paper obsessive with 20 plus years of training I've done all the leg work for you. So you can relax knowing this is taken care of.
What else can I do to make my wedding invites eco-friendly?
Ink is always an important factor. By choosing vegetable-based or vegan inks, you will be reducing the number of nasty chemicals used. These ink are also more favourable when it comes to recycling as many are certified for the de-inking process.
Keep the amount of ink used to a low. The more ink used the more difficult it can be to recycle again. After all, if you are using beautifully flecked or soft cotton papers you really don't want to cover that up.
Think about your paper finishes too. Some cheaper digital foils are produced by using a lamination process, not only does this mean you can't recycle them but you are trapping that beautiful paper between essentially two thin layers of plastic! If you do love foils, there are some gorgeous eco-friendly hot foil options now available.
Is it possible to have luxury eco-friendly wedding invites?
The papers used here and in my gallery are seriously gorgeous, the finest of the finest premium finds. They will take your designs from ordinary to extraordinary. Selecting the right paper can take your invitations to the next level. Wowing all your loved ones from the minute it drops on their doormat.
Have a look through my wedding stationery gallery for inspiration. Please do get in touch to find out how you can make your wedding invites more eco-friendly and keep them beautiful. Or if you have a question
Part two of my "How to have eco-friendly wedding invites" is coming soon. I will be looking at plantable, seeded paper options. I'm just busy growing some now, so we need to wait for them to spout!!
I have a question about Eco-friendly paper
Subscribe to receive your FREE stationery planner
Download "Your Simple Guide To Planning Your Wedding Stationery" to discover your perfect colour palette. Connect with what personalised elements to share with your guests. Get clarity in what items you really need. Collate together all your important details in one place and reveal the secret behind the ideal time to order and post out your invitations.
By following this guide you will be left feeling confident, calm and ready to start your wedding stationery journey.