Eco friendly wedding invites –9 ways to make your stationery more sustainable
22nd July 2021
If you are looking for ways to reduce the impact your wedding will make on the environment then eco-friendly wedding invites and stationery is a great place to start! Make your wedding invites more eco-friendly with these eight great tips.
Obviously, as your stationery is made of paper it is never going to be 100% perfect. There is always going to be some waste involved. Small changes can soon create quite the difference and make your wedding stationery more eco-friendly. All without compromising on style!
1. Eco-friendly wedding invites made from recycled or sustainable card
Paper is of course the largest element when it comes to your wedding stationery. By selecting the right papers you can considerably reduce your environmental impact.
Recycled and post-consumer waste papers use less energy, water and produce fewer carbon emissions than non-recycled papers. Let alone helping to save trees. Post-consumer waste papers is a great way to give a second life to products that would otherwise end up in the landfill.
Best of all recycled papers can be recycled again to making your wedding stationery even more eco-friendly.
Have you considered zero-waste seeded paper? This type of paper gives straight back to nature, as these papers are loaded with beautiful bee-friendly seeds and can be planted in your back garden when you have finished with them. Great for menus and place cards that often get thrown away at the end of your wedding day.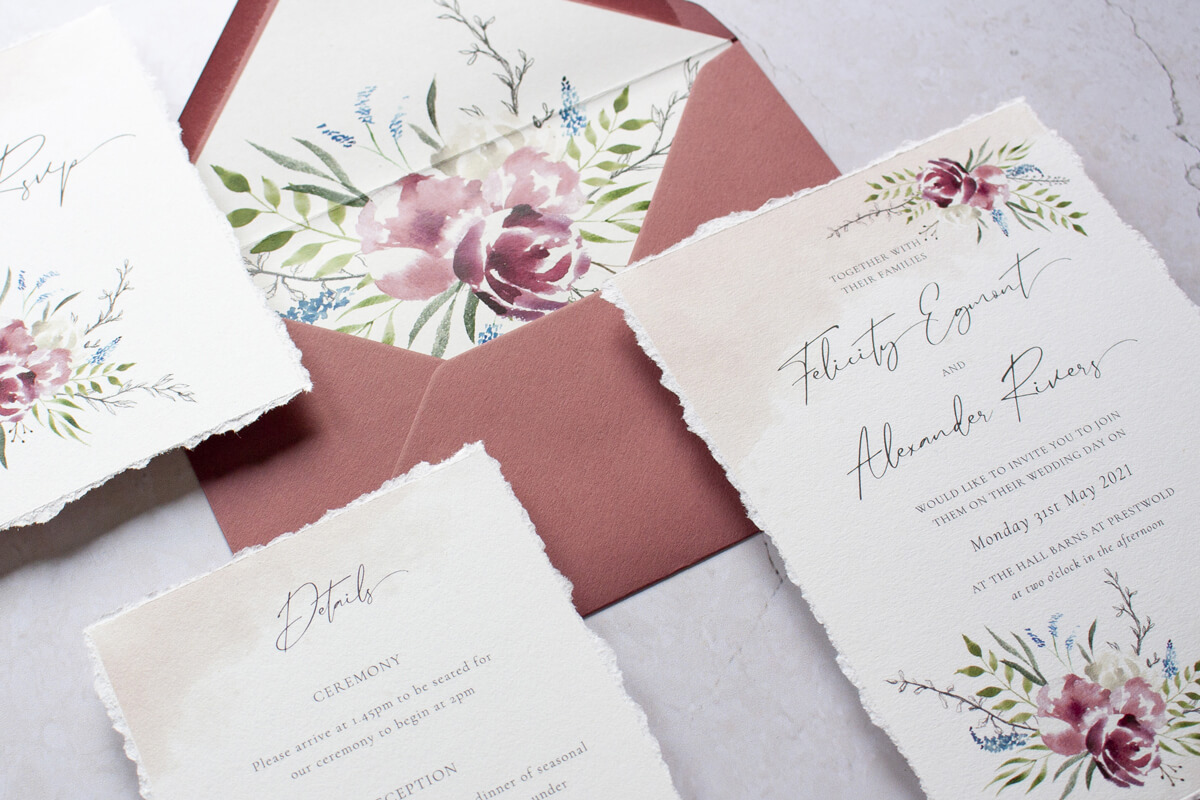 2. Eco-friendly wedding invites with kind inks
Like paper, the inks used can make an impact on the environment too, opt for non-toxic plant-based inks that don't add petroleum or other nasty chemicals back into the environment.
Another lovely touch is to keep your designs light, delicate and elegant. This will reduce the amount of ink used on your stationery in the first place and make your stationery easier to recycle.
3. Eco-friendly Finishings
By choosing minimal finishings that are made of reusable or recyclable materials you will reduce the amount of waste your stationery will produce. Load your stationery up with glitter and plastic finishing and your invites will be going straight to landfill.
Great sustainable and eco-friendly finishings to use are
Bamboo silk ribbons – hand-dyed with natural dyes
Twine – made of natural fibres such as jute
Cotton – handmade cotton tassels
Metal clasps – these fancy paper clasps can be reused for years to come
Paper twine – easily biodegradable
Recycled paper bellybands – easily recyclable
4. Reduce waste with eco-friendly table plans and signage
These are the largest pieces of stationery at your wedding. If you want a large printed board try to opt for ones made of recyclable materials, such as card in favour of foam or plastic that can't be recycled.
Why not use a vintage frame to hang your table plan in? This style uses less paper and ink, not only kind on your budget but also paper wastage too.
Fabric banners and painted wooden signs are also a lovely options that can be cherished for years to come as a keepsake.
5. Only print what you need
Just because an item is on the stationery tick list, it doesn't mean you have to have it.
Here are a few clever ways to save on paper
• Print your wedding details on the reverse side of your invitation
• Have a wedding website to collect RSVPs instead of printed ones
• Have postcard style RSVPs that require no extra envelope
• Create wedding menus that double up as place cards
There are so many clever ways for your designers to get the most of your printed paper without compromising style, this can often save you money too.
6. Eco-friendly packaging
Waste doesn't just stop at your stationery. The way your stationery is Packaged also has an impact. All my stationery is packaged using recyclable elements, if you ever do spot things like bubble wrap used for extra protection, I will have reused it from packaging sent to me.
7. Sustainable energy
Like your packaging, what kind of energy do your suppliers use? It's always a great benefit if the full supply chain practices eco-friendly ways of running their business.
8. Give back and plant some trees
A great way to give back is to the planet and help combat carbon waste is to plant trees. Did you know for every stationery suite ordered from me I will plant a tree?
9. Making your invitations fully recyclable
When designing more eco-friendly and sustainable wedding invitations it is not just the material you use to make them that is important. Probably the most important thing is to think of the full life-cyle and what happens to them after your wedding. Make sure all your elements can easily be recycled in your home recycling system. Ensure none of your papers has plastic finishes (laminates) or contain plastic (yes some papers do), making them impossible to recycle. If they can't be popped into the recycling are they biodegradable? Are they made from natural materials or biodegradable materials that do not require special conditions? By thinking about this you can create beautiful wedding invitations that are zero landfill. Now that is what makes a great eco-friendly wedding invitation!